Analytical development
Losan provides a broad range of analytical development services to its clients. We have extensive experience in the development of robust analytical test methods for raw materials, APIs and pharmaceutical products.
analytical development at losan Pharma
At our cGMP compliant facilities equipped with the latest, innovative technology, we can provide you with fast and highly precise product characterisation and method development.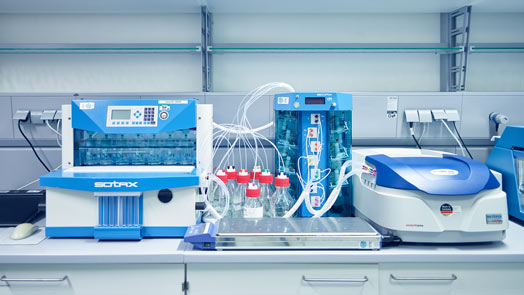 Our analytical development services include:
HPLC (UV/VIS, DAD, RI)
UPLC (PDA, ELSD)
gas chromatography, headspace
dissolution
thermoanalysis (TGA/DSC)
x-ray diffraction (XRPD)
particle size analysis (Laser Diffraction LD, Dynamic Light Scattering DLS)
zeta potential
water content (Karl Fischer)
IR spectroscopy (FT-IR)
diffusion and permeation test (Franz Cell)
viscosity
microscopy
photostability (Q1B)
We can also provide analytical validation in compliance with EMA, FDA, cGMP and ICH requirements.